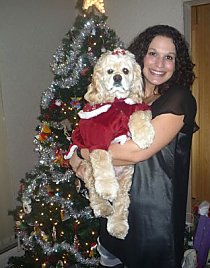 Coco Chanel Bella
My name is Coco Chanel Bella. I am a 5 year old cocker spaniel. I have the best mommy. She spoils me! I'm her little baby! She takes me for walks, dresses me pretty, gives me good food and lots of treats and takes me everywhere she goes. When is she at work I am never alone because mommy drops me off at Grandma's house, who also spoils me! I have my own walk-in closet of clothes, bows, costumes, etc. Mommy loves me lots and I love her lots too! Happy Mother's Day to Everyone!
---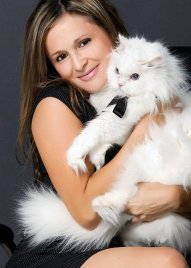 Lisa and Kaboodle
Since I am a lucky dog and can e-mail, I want to submit my Aunt Lisa Alexander as great pet mom and catvocate who spends countless hours helping those cats and dogs in need. She is special mom to Kaboodle and Molly and deserves all the love that she gives to them right back to her. From 'Cousin' Bocker the Laboradoodle.
---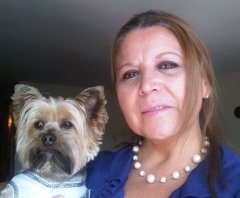 Biggie with Mom
Oh my gosh, what can I say about my biggie? He is my perfect companion. He can erase my loneliness, He came to my life the moment I needed him the most. I just had lost my mother when Biggie came into my life and he helped my thru my sorrows.
---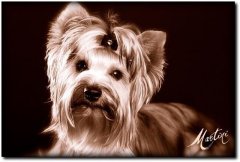 Penny Casimano and Martini
Penny Casimano and Martini. "I am the King of my Castle and my mom spoils me rotten and I love every minute of it! I also have lots of doggie neighbors to play with here in Forest Hills and wouldn't trade it for anything.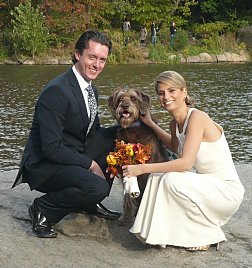 Dawson and Jodi
Our Labradoodle Dawson was in attendance at our wedding in Central Park this past October. He's been a part of the family for almost 5 years now and we couldn't imagine getting married without him present! Fun was had by all and we had to desperately try to keep him from taking a swim instead of listening to our vows. - Jodi Johnson
---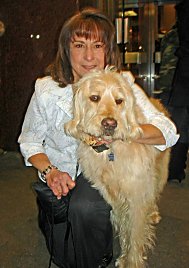 Bocker the Labradoodle
I celebrate my mom because she is my "star". Without her, where would I be today? Would I have over 5,000 Friends and Fans on Facebook, would I have been in movies, on TV, or in print ads. But most of all would I have been able to do all the therapy work I do and make so many people smile? Definitely not. People say I am an angel, but without her, I am an angel without wings.
---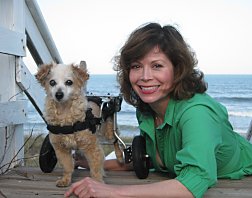 Caryn and Jax
Jax is my eight pound rescued mutt who's had his "wheels" for 10 years and runs five miles a day. The little tough guy thinks he's 200 pounds, four-legged, and pays the rent in our NYC apt. We've been together for 12 years and are still going strong!
---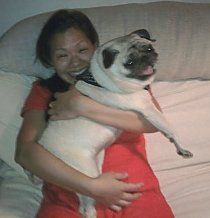 Amelia and Lulu
This is Amelia, a rescue pug, with her Mom Lulu. (And Lulu, like a good mom herself, has worked with Amelia who had emotional and physical health issues.) Now eight pounds lighter and tons more happy Amelia has the best doggie Mom around!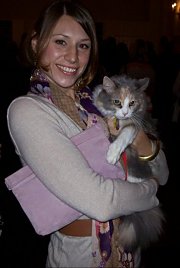 Erin and Samii
I would like to acknowledge Erin Johnson this Mother's Day. She is the mom to five rescue cats, a 13 year-old Brittany Spaniel, and a red-eared slider turtle. One of her cats, Sammi, is a rescue from Rochester, New York and a Delta Certified pet therapy cat. She is a true pet mom. Happy Mother's Day, Erin! Cheers, Mike.
---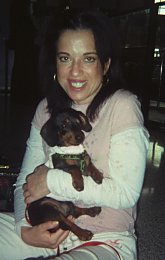 Donna and Puck
My daughter, Donna Marino, is a great mom to her fur kids, Puck and Lilli Kate. Puck was a rescue who had three homes in two years; she took him in after her beloved Heidi just died. He was the saddest little boy when she adopted him in 2002. With love and lots of hugs and kisses, Puck began to trust his new mom. She found the one thing he loves to do- take walks on the beach! How excited he still gets. Then in 2007, Donna saw Lilli Kate another mini dachshund , on a rescue site, and rescued her. Lilli Kate also had an awesome foster mother, Sandy, before coming to live with Donna and Puck. Happy Mother's Day, Donna! Love (your human) Mom
---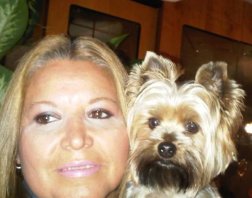 Doggie Grandmother
---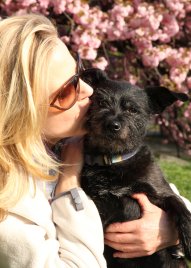 Cooper
Cooper my rescue dog! (Photo: Fran Reisner)