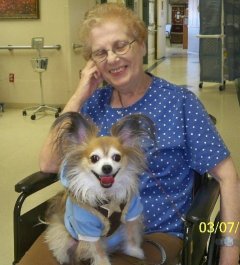 Stella and Chico
My mom, loves her Granddog Chico...As a doggie mom, I wanted to celebrate both of them on Mother's Day! Thank you to my Chico, who made me the proudest doggie mom when he provided my mom with much needed love and laughter when she was in a nursing home, battling cancer and recuperating from multiple surgeries after being struck by a car. From my heart and Chico's, we want to wish the greatest "Doggie GRANDMOM" in the world a very Happy Mother's Day! Love, Chico and his Doggie Mom, Stella.
---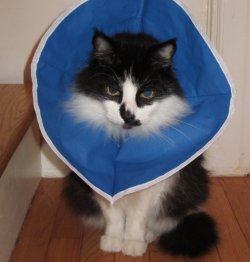 Andrea and Frankie
Frankie's mom is Andrea Humphrey. Andrea adopted Frankie this year. He's an older cat that is very social and loving.
---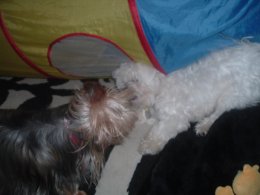 Toto and Mom, Susan
My Yorkie, Toto, almost died recently. My Maltese looks after her (maybe too much) but I am so happy that she has a reason to live! I love them both and hope I can make a tribute to my Toto before she dies. She has travelled extensively with me, to puerto Rico, florida, Maine, etc on hikes, climbs, rafting, surfing! I love her. Love, Susan
---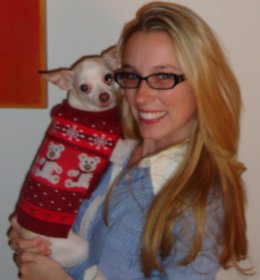 Gillman and Mom, Jessica
Dear Mommy: From the day you rescued me six years ago until today, you've not only been my mom, but my best friend! Chichi Love, Gillman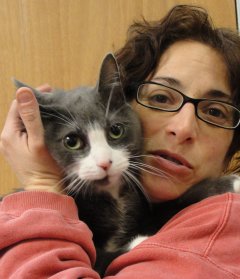 Paulina, Dog and Cat Mommy
Paulina Bitetto: My friend Paulina Bitetto is one of the best pet moms ever, having adopted stray animals and given them wonderful lives. Right now, she has a German Shepherd Dog and a Bichon Frise that would otherwise have been euthanized. Each has been to training classes for the past several years, to dog show, and is just ADORED. This is her cat in the picture. Happy Mother's Day from Kay!
---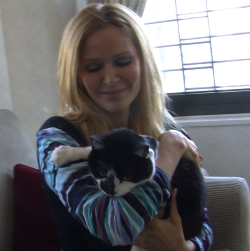 Leesa and Moo
Happy Mother's Day! Leesa Rowland and Moo
---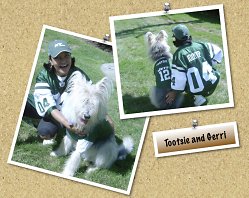 Tootsie and Mom, Gerri
That's me, Tootsie, and I am the luckiest puppy in the world cause I have a mom who love to play football with me! I'm the best wide receiver who can escape any tackle. But sometimes I do let my mom, Gerri, tackle me cause it always ends up with a hug...and I do love hugs!
---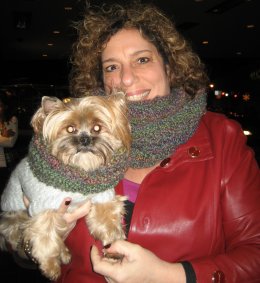 Petey and Mom, Beth
We are Beth and Petey Kraimer. He is 7 years old now. I always wanted to be a Mom and when I found Petey terribly distressed in a pet shop I knew I had to take him home. After a while he recovered and became the shoe wearing show off in Manhattan. He has made feel so loved and appreciated that he models professionally and go to all the hottest parties in the city.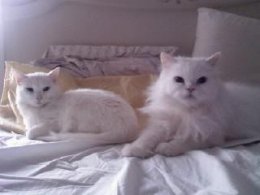 Molly and Kaboodle
My cats clearly hit cat lotto. I am the kind of cat mom who literally wakes up, fans them and feeds them treats. They have a cat bunk bed with their names monogrammed on them and a pink litter box shaped like a heart. I am very lucky and blessed to have my Molly and Kaboodle; they make me incredibly happy Mother's Day and every day of the year. Lisa
---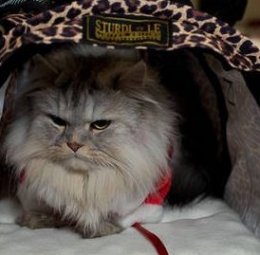 Ada Nieves, Pet Parent
Happy Mother's Day to Pet Parent Extraordinaire Ada Nieves! From Dana Humphrey and "Martini."
---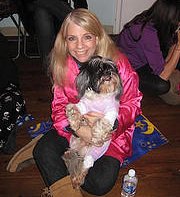 Brandon and Mom, Fern
Our Mommy, Fern Weinbaum, is the best! She takes care of all eight of us who were adopted. She gives us so much love and so many kisses. We all sleep in bed with her. She takes us all over and socializes us and gives us everything we need. She loves all shih tzus and is known to help homeless doggies. Love, Brandon, Dustin, Chase, Kahlua, Cody, Maui, Chingkee and Lola
---

Madison
Madison is a four and a half year-old toy poodle rescued from an Amish puppy mill in PA in Nov. 2007 - and is the apple of her mommy's eye. Nicknames include "Lambchop," "Swee'pea," "Velcro," and "Padoodle."