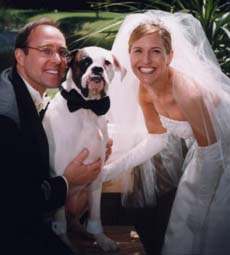 Mitchell, Yorma and Amy Wexler
Flower Fields, St. James, NY
Weddings are wonderful in that they bring everyone you love together; your intended, your family, your friends, and everyone in-between. For increasing numbers of couples, pets are becoming parts of their special day, too. But like all gatherings involving large amounts of people--especially relatives--emotions and opinions tend to run high. For some, the idea of pets in the wedding is a bone of contention.
"Mitchell would always say Yorma's going to be in the wedding," said Amy, head of public relations for Pokemon USA. But as we got closer to the day, I realized he was serious. And I knew my parents weren't going to be interested in this."
They weren't. "My mom said I was making a mockery out of the marriage ceremony," Amy said, who increasingly found herself stuck between her mother's disapproval of an 80 lb Boxer at the wedding and Mitchell's insistence on it. "She asked me why I would want to share the spotlight with a dog."
"There was never any doubt that Yorma would be in the wedding," Mitchell said, a real estate agent in Manhattan. "But I can understand that Amy's parents were concerned that he was going to take the focus away from us."
Amy decided to call upon a time-honored tradition in resolving disputes. She called the rabbi.
"I literally asked, Rabbi, is this kosher?" Amy said.
"That's cool," the Rabbi said.
And that was that. With the Rabbi's blessing in hand, Amy's mother began to accept that Yorma would be in the wedding. On the big day, Yorma, donning a big black bow tie and white cuffs, was walked down the aisle by a friend of Mitchell. Except for a little whining during the ceremony-Yorma's, that is-the wedding went off with nary a snag. After the ceremony, Yorma relaxed in the groom's room. The three now make their home in Brooklyn.
"And her parents love Yorma," Mitchell said.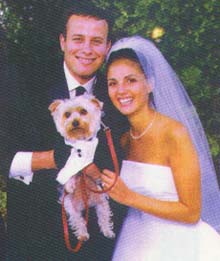 Daniel and Erica with Maxx
Couples are finding other ways to make their pets part of their wedding day, too, even if the pet doesn't actually attend the ceremony. For Erica and Daniel Safran of Manhattan, having the photographer take pre-wedding pictures with her wedding party and Maxx, her family's seven year-old Yorkshire Terrier, was the perfect compromise. "We wanted to have him at the wedding," Erica, a marketing specialist with Guardian Life Insurance Company said, "but when it came down to it, we decided against it." Some reasons Erica considered that made her decide to leave Maxx home was his nervousness around too many people, Daniel's allergies, and the lack of an official "dog handler" to attend to Maxx during the wedding and reception. But Maxx did so well in his supporting role that he's already been tapped for a repeat performance. "My sister's getting married next year," Erica said, "and Maxx will be in her wedding, too."
Still others opt to have their pets in their wedding in spirit, especially if there's a chance they might literally fly away. New York Tails' own "Beak Street" columnist, Judith Glick-Ehrenthal, is the proud owner of several gorgeous exotic birds and found a way to make them part of her and husband Herb's special day several years ago. Instead of having the avians actually in attendance, Judy wore a custom-made jacket bejeweled with their likeness on the back. For some at the formal wedding, however, it was not enough.
"Everyone," Judy said, "was asking where the birds were."
Wedding Pet Tips
Here are some tips from the couples above to other New Yorkers considering adding a furred or feathered pet to their wedding:
Make Sure Your Pet Wants To Participate: "Know your pet," Erica says. "If they get too excited or nervous around five people, they will get too excited and nervous around two-hundred." Amy agrees. "Make sure your pet is very socialized. There's a lot going on at the wedding."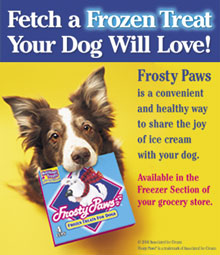 Keep It Simple: "We were thinking of having Yorma carry our rings," Amy says, "but we got married outside near a lake with ducks, and I had visions of him going off to chase ducks with our rings around his neck."
Take a Test Run: If you're getting married in an unfamiliar place, take your pet there a few times before the wedding so they get used to it. They should not be seeing the place for the first time on your wedding day.
Prepare Your Case: Because of family, tradition and beliefs, most people-especially parents-have strong ideas about what is and isn't appropriate at a wedding. Be prepared to meet some resistance and exercise understanding about concerns. (You might also want to check with your cleric if it's a religious ceremony to see if your pet's attendance is appropriate.) Also, check to see if there will be attendees who may be allergic to your pet.
Wait Until You're Ready To Take Pictures Before You Put Your Pet's Outfit On: If you're planning to dress your pet, wait until just before you take pictures to dress them. Otherwise, their beautiful bow tie or flower garland may become a snack instead.
Have A Designated Wedding Pet Handler: Appoint someone whose job it is to walk your pet and attend to it during the wedding and reception. After all, you're going to be busy getting married!
---
Would you like to be notified when New York Tails updates its Web site with articles about pets and issues of interest to pet owners? Click here to send us e-mail. Enter "New York Tails Updates" as the subject of the e-mail.