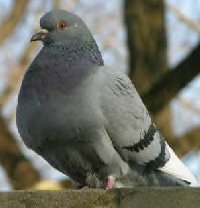 A dark blue SUV pulls up to a corner adjacent to a small city park between 5:30 and 6:00am - just before the streets start bustling with early-morning commuters on their way to work. A man jumps out, spreads a fishing net down on the street, and sprinkles birdseed in a circle over the net.
Then, he waits.
Soon after, according to eyewitnesses, dozens of desperately flapping birds are caught in the net, hauled into the SUV, and never seen again.
In Fall 2006, the Humane Society of the United States successfully nabbed a ring of pigeon thieves and shooters who called themselves "The North American Flyers" in Covington, Pennsylvania, about a four-hour drive from New York City. In this case, the birds were allegedly shipped to "sporting" events where they were placed in crates inside of a center ring and let out one at a time. Participants then competed to shoot the semi-tame, dazed urban birds which emerged from the crate. (There's a whole book on variations of this "sport" called "The Pigeon Shooter", ironically published by Swan Hill Press. It's available on Amazon.com for thirty bucks and comes with optional gift wrapping.) Humane enforcement officials and others also suspect some captured urban pigeons end up on the plates of unsuspecting diners as squab or as bait in pit bull fighter camps.
One spot that has become notorious for pigeon napping is the northwest corner of 90th and 2nd, just outside of the gates of Rupert Park and mere yards away from a children's playground and a straight shot to the FDR just blocks away. Someone has taped a poster in both Spanish and English on a light post there, imploring early risers to keep an eye out for the netter. Another spot is near St. Vincent's Hospital on 7th Avenue South and 11th Street, where someone has gone so far to spray paint "No Pigeon Netting" in big black letters on the sidewalk.
The New York Bird Club, headed by Anna Dove, and the Manhattan's Pigeon People, headed by Al Streit, and an "underground" network called "Bird Operation Busted" in a June 26th, 2007 article by Village Voice writer Mara Altman, are among those who are flapping mad about the pigeon poachings and are keeping their eyes peeled, urging other early risers to do the same. In Defense of Animals (IDA) is offering $2,500 for information leading to the capture of the pigeon poachers.
Early dog walkers, joggers, and you crazy morning people-keep your sleepy eyes open. Like the subway sign says, if you see something, say something. But don't approach the pigeon netter directly--one person who did several years ago tangled with a very agitated poacher. If you can, discretely, whip out your cell phone and take a picture of the license plate. Then, report it to the New York City Humane Law Enforcement at (212) 876-7700 ext. 4450 and In Defense of Animals at (415) 448-0048 to be considered for a reward.
Love them or hate them, whether you revere them as Rock Doves (the formal name for pigeons) or despise them as "rats with wings," do you really want suspicious characters lurking around city playgrounds with SUVs? Do you want to second-guess where your dinner came from? Should someone be stealing our birds off of our streets? You know the answer.