Can a chew chow really claim to be "everlasting" and withstand even the sharpest, most tenacious of jaws? We gave this "tough" toy to one of the toughest guys we know--who also happens to have one of the world's toughest dogs.
Everlasting Treat Ball
From Triple Crown Dogs (www.triplecrowndogs.com)
By Sifu David Ross and "Subi", Founder, New York San Da Martial Arts Gym (www.nysanda.com)

Reviewer: Subi
A year and a half ago I rescued Subi, a rare breed of Korean hunting dog called a Jindo. Subi is a good dog, but he can't escape his genetics. He's a hunter, he's a killer, and he's got the strongest jaws I've ever seen. My grandmother raised Doberman pinchers, but compared to Subi's jaws, those Pinchers were kittens. Our groomer calls him "Jackal Jaw."
My wife and I have tried every toy known to man to amuse Subi, but he's destroyed them all. Rubber balls go "pop" one minute after we give them to him. He shreds rubber toys advertised as "tough" to bits. We've gone through more tennis balls than the U.S. Open.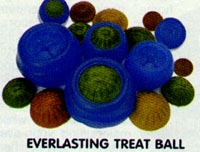 So you can see why I approached the Everlasting Treat Ball from Triple Crown Dogs (www.triplecrowndogs.com) with skepticism. (My wife even wanted to set a timer to see how long it lasted.) We were surprised from the start. Subi, very picky about his food, grabbed the Everlasting Treat Ball between his paws and spun it around for the rest of the night. We were relieved to find something that kept him amused for so long.
Shockingly, the ball still survives. It must be indestructible because it's been 6 months and the ball hasn't got as much as a scratch. Now my only problem is keeping the ball filled with those yummy treats!
Reviewer's Rating for the Everlasting Treat Ball
Fetch It or Forget It? - "Fetch It!"
Website: www.triplecrowndogs.com
---
Do you wish there was something that would keep otherwise well-meaning people away from your dog while you're taking a walk, especially if you have a moody, sick or senior dog? We had a respected dog trainer check out one product that claims to do just that.
Caution Dog Leashes
From Triple Crown Dogs (www.cautiondog.com)
By Victoria Wells, Certified Dog Trainer and Behavior Consultant, ASPCA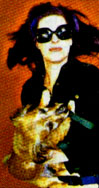 Reviewer: Victoria
When I was asked to test out the Caution Dog Leash I was very excited. As an animal behavior consultant, I work with numerous dogs that have issues and should not be approached by either humans or other dogs while in training.
The Caution Dog Leash resembles police crime scene tape, yellow-colored with the words "Caution Dog" repeated down the length of it. It was interesting to see people's reactions. If I was walking a small dog with the leash people would approach and remark how cute and ironic it was. But it was a different story when I had the leash on large, intimidating-looking dogs. People would look at the dog, read the leash, and heed the warning. Some even crossed the street.
I should mention--there was another very unexpected reaction from the public when I had the Caution Dog Leash draped across my shoulder. It became a conversation piece, especially with the men, and I was asked out on a few dates. So I am going to start wearing the leash myself.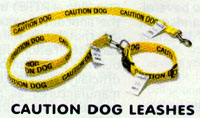 Reviewer's Rating for the Caution Dog Leash, Fetch It or Forget It?
"I'd recommend the shorter size (4 feet) for larger dogs in training. I don't recommend it for smaller dogs with behavior issues-it attracts more attention."
Website: www.cautiondog.com