Presents for Your Pets--Past, Present and Future
with Petland Discounts' Amy Kimmel
New York Tails spoke with Amy Kimmel, director of public relations for Petland Discounts. Since 1965, Petland Discounts has grown to over 100 community pet stores bearing the Petland Discounts name in neighborhoods throughout the tri-state area. This holiday season, Ms. Kimmel looks back on forty years of serving New York-area pets and their people and how the pet-person relationship has changed over the years. And, as an added bonus, she gives New York Tails readers some fantastic gift suggestions for the special pet in your life!
New York Tails: Looking back over the past forty years, have you seen an increase in the number of people who buy their pets presents for the holidays? Do they buy presents for their friend's pets, or send presents "from one pet to another?"
Amy Kimmel: Yes..we have seen an increase in the number of people who buy presents for their pets. People are spending more money on their pets as the pets are thought of as members of the family. People treat their pets as their children and want to buy them gifts to "open" for the holidays. As the kids get older and leave the house, the parents and their friends treat the pets more like their children and buy them gifts.
New York Tails: What types of items do people usually buy their pets?
Amy Kimmel: For the holidays people buy their dogs and cats the stockings that are stuffed with toys and treats. Or, they will buy a stocking that we sell and choose their own toys and treats to put in it. People also buy clothing for their pets, whether it is a sweater, jacket or sweat suit.
New York Tails: Is there any particular group of pet owners that tends to buy presents more often for their pets?
Amy Kimmel: I believe that people tend to buy more gifts for dogs. Dogs tend to be more interactive and they get excited for presents.
New York Tails: What are your hot picks for pet presents this holiday season? Any new and interesting items come in this year that pet owners may want to check out?
Amy Kimmel: New things we have for the holiday are:
For Dogs -- SpongeBob SquarePants plush dog toys
For Fish -- Fairly Odd Parents ornaments for Aquariums
For Birds -- Featherstone Victorian bird cages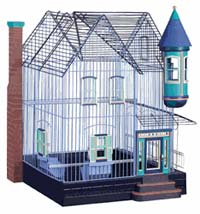 Featherstone Cage
The latest fashion trends for dogs are:

Shearling Coats Velour Sweatsuits Doggy pajamas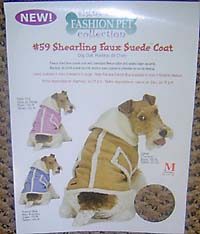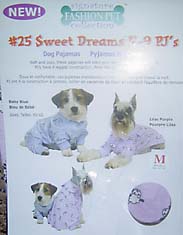 Shearling Coat and Doggy Pajamas