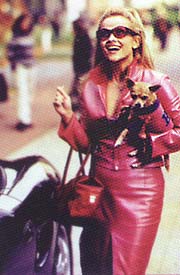 Legally Blond II
as a Lesson in politics?
If movie revenues are any indication, U.S. citizens really are interested in how the political process works. Several Internet bulletin boards recently compared Fahrenheit 9/11 to another political comedy, Legally Blonde II, Red, White and Blonde, by saying both films made about the same amount of money ($22,000,000 for Legally and $23,000,000 for Fahrenheit) the first week they played theaters. And while each appeals to a very different demographic, the most important quality both offer is insight into the political system.
Legally Blonde II explores the passion young lawyer Elle Woods has for her little dog, Bruiser, in making him part of her activities, including her wedding. While trying to locate Bruiser's mother, Elle discovers the little Chihuahua's mother is a lab animal to test makeup. To emancipate "Mom" Elle must change federal law and make animal testing illegal. To further her cause, Elle finds a staff job with her state congresswomen, Victoria Rudd.
Reel Life, Real Politics
Using these plot devices, Legally Blonde II turns into a movie that shows, in an engaging manner, how the legislative process works. Generally bills are introduced by a Senator or Congress person into the appropriate committee, where members will debate its validity. From there, it either gets brought to the House of Representatives or Senate for a vote, or it is ignored. If the bill passes the House and Senate--usually after some wrangling over language from both sides--the President signs it. If, however, the President is truly against it and there are not enough Congressional votes of support--a 2/3 majority--the President can veto it.
Legally Blonde II also gives a realistic glimpse into the back-room politics most bills face on their way to passage. When Elle's boss, Rep. Rudd realizes one of her major contributors would suffer financial damage if Bruiser's Bill came to the floor, she withdraws her support. In response Elle quits her job at Rudd's office and petitions all of Congress to cosponsor the bill.
In real life, a well-paid lobbyist or elected official tries to find attention from the major media to support passage of a particular bill. In Legally Blonde II Elle asks all Congressional interns plus her cheerleader friends for help in making "Bruiser's Bill" a high profile issue, including having her case covered on C-SPAN. Her hairdressing friends style all the politicians' hair using animal-friendly cosmetics, which helps them understand how simple it is to become beautiful using products that have not been tested on animals.
Is This How Things Really Work?
Bill Rayball, a spokesman for Albany Congressman John Sweeney (R-NY) says the methods used by Elle Woods in Legally Blonde are very close to the way things get done in the world of politics. Rep. Sweeney himself is currently cosponsoring Federal animal protection bill H.R. 857 /S. 2352, "The American Horse Slaughter Prevention Act" with John Spratt (D-SC) and Senators John Ensign (R-NV) and Mary Landrieu (D-LA) in Washington. The bill is in the petition phase and has 224 bi-partisan cosponsors, so the love for horses definitely crosses party lines.
Rep. Sweeney's district includes Saratoga Springs, famous for horse races. In explaining his bosses' support of the bill, Mr. Rayball relays the almost legendary story of Ferdinand. Ferdinand, a 1986 Kentucky Derby winner, was eventually sold to a stud farm in Japan. But according to a July 2003 article in the trade journal, The Blood Horse, Ferdinand was eventually sold to a slaughter house and served as a meal in that country. What's more, according to Rayball, Ferdinand's story is not unique. Of the 600,000 horses that die each year, he says, 50,000 are specifically killed to be eaten in Asia and France.
Opposition
But much like the imaginary "Bruiser's Bill," HR 857 faces opposition. It is current in the House Agriculture Committee and Congressman Bob Goodlatte, Committee Chair, opposes it. A call from New York Tails to Rep. Goodlatte's office was unreturned.
Supporters of H.R. 857 say facilities are sorely needed for retired horses. "There are sanctuaries and programs for convicts and others who need therapy," Mr. Rayball says by way of contrast.
But Mr. Rayball, obviously, loves horses, specifically U.S. horses. "This animal has played such a role in forming our nation. Explorers brought horses over here. The horse has always been a companion animal. We feel this bill verifies that. Horses are not raised for human consumption in the United States. We're not telling France and Japan to stop eating horse meat, just don't eat our horses."
Your Inner Elle Woods
This political season, animal activists have many ways to be part of the democratic process and find their own inner "Elle Woods." The "Government Affairs" link at the Humane Society's website (hsus.org) has an up-to-date list of pending legislation, email and phone numbers of the right City Council Member, Senator, Assembly person and Congress person to contact.
Do you really want to help animals but don't have the time? Then join Mary Max's e-mail activist list! Mary sends approximately three easy-to-do alerts per week that are mostly legislative in nature. By making a quick call or sending a short fax or e-mail to a legislator, you can help ensure that laws are passed to protect animals. GET ACTIVE! GET POLITICAL! Join Mary's list by subscribing at mrsmax@earthlink.net.
*Editor's Note: Above description of e-mail activist list written by Ms. Max. Generally liberal leaning, pro-vegan legislative alerts.
---
Would you like New York Tails delivered directly to your door four times a year?
Click here to find out how.