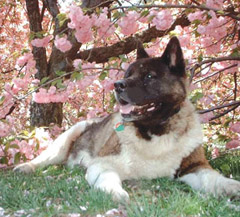 Bella Abdog Marino
Oct. 31st, 1995 - Nov. 20, 2007
Bella, my companion of 11 years, came from a rescue group and she surely rescued me. Bella was the motivation for my efforts to help lead the successful campaign through NYCdog.org and NYC DOG's collaborative efforts with the Parks Department and Department of Health to establish official off-leash hours in New York City's parks. (Maybe it worked because Bella was named after the unstoppable Congresswoman, Bella Abzug.) Bella and I made hundreds of friends throughout our Upper West Side neighborhood; truly our dogs are instrumental in knitting together the community; giving reason for strangers to become friends. Bella's belongings were donated to www.AngelsGate.org animal hospice. Please remember them whenever you have extra pet supplies or wish to make a donation in honor of Bella or another pet. And if you do not own a pet, share your life by adopting a rescued pet who needs your love. - Bob Marino
---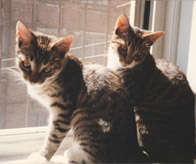 Moby & Stevie Denny
Nov. 8, 1988 - Oct. 21, 2005
& July 19, 2006
Moby and his twin, Stevie were loyal brothers to each other, and welcoming friends to the many strays we fostered through the years. Never apart in 17 years, they were bonded as few cat pairs are. Sweet, playful and generous, Mo would give the last crumb on his plate for a friend... and kiss him after. Unflappable Stevie weathered more than his share of storms with courage, intelligence and a poker face to rival any gambler. He was my rock. I miss them with my whole heart. If you want to give in memory of Stevie and Moby, please give to Best Friends Animal Society (http://www.bestfriends.org), American Anti-Vivisection Society (http://www.aavs.org) or The Physician's Committee For Responsible Medicine (http://www.pcrm.org). -- Jane Denny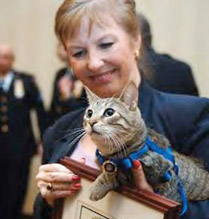 Detective Fred
August 2006 (at 15 months old)
Fred, the crime-fighting cat of the Kings County District Attorney's office who helped put an unlicensed 'traveling' veterinarian away during an undercover sting operation, was run over by a car outside of the home of Kings County Assistant District Attorney Carol Moran, who had adopted Fred from a city shelter. Prior to his death, Fred received his own DA badge and was preparing for a career in the DA's "Legal Lives" program, a classroom-based initiative to teach school children how to care for and treat animals.
---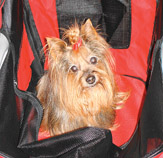 Chumley Forster
April 3, 1992 - February 27, 2007
"Chumley" was the beloved pet Yorkie of Grace Foster. Always the lover and never the fighter, he enjoyed traveling around the city, seeing his many pals at a variety of social events and fundraisers. But he was also an international and national traveler. On family vacations, in his younger years, he still enjoyed road trips and, most recently, riding in his red racing stroller with his little sister, Portia. His "Dad" and "Grandparents" surely were at the gates to welcome him home. My Sweet Prince will be forever in my heart. Donations in his memory may be made to Angel's Gate's Sanctuary (www.angelsgate.org) in Fort Salonga, New York. -- Grace Forster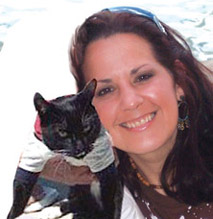 Sally and Mr. Mouse
2005
Mr. Mouse, beloved cat of Sally Winowiecki passed on in 2005. Sally Winowiecki, beloved human of Mr. Mouse, and many other animals, completed her earthly journey on Aug. 21, 2006. A Vet Tech working 12 hour shifts, Sally still found time to foster infant kittens that otherwise would be put to sleep. The Center for Animal Care and Control told me there was never a better foster mother than Sally. Following Hurricane Katrina Sally and Mr. Mouse raised over $3,000 and filled an entire truck with donated pet supplies. She will always be my cherished daughter. I will miss her and Mr. Mouse and love them forever. - Sally's Mom
---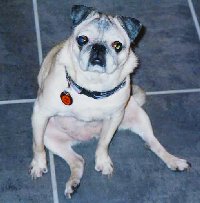 Clarice "The Wonder Pug" Milito
together for 16 years
Clarice "The Wonder Pug" was a gentle soul who graced my life for almost 16 years. From howling like a mad dog when I played Bob Marley's "Jammin" to waking up from a coma-like sleep when she heard a pretzel bag opening. In almost 16 years together, we went through divorce, moving a few times, job hirings, job firings, deaths, and life. And the one wonderful constant was always Clarice. Rest in Peace My Sweet. Any donations in her name can be made to Animal Care & Control, NYC at www.nycacc.org.