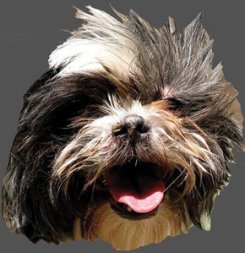 Taylor Chad Weinbaum
9/20/96 - 7/13/09
Beloved littermate of Brandon and Brittany, and housemate of Dustin, Chase and Cody, passed away in my arms on the morning of July 13, 2009. Taylor was one of the loves of my life and the sweetest dog ever. He was kind, silly, clownish and a real comedian. He fought to the end, but was felled by heart failure and an inoperable tumor. He had a will to live and was alert, smiling, kissing and wagging his tail up until that day. I will never forget my dear Taylor and think of him every day. He was given the important job of transforming one of my adopted dogs who had had behavioral and medical problems, into a happy and fun-loving dog. That dog (Dustin) now embodies the spirit of Taylor - fun-loving, funny, clownish and constantly kissing. Rest in peace, my dear Taylor and know that Mommy Fern will always love you.
---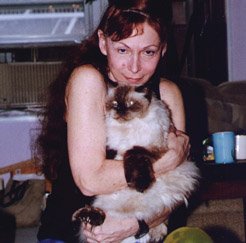 Frankie "Ol' Blue Eyes" Henkin
3/3/89 - 6/11/09
We adopted Frankie when he was 6 years old from a family who could no longer keep him because their child had developed an allergy to cats. They were heartbroken, but their loss was our gain. For 14 years, Frankie showed us nothing but love and affection. Each night he would come and lay on my chest and purr for a few minutes before moving on to my husband's chest and doing the same. He must be an 'equal opportunity lover', we joked. And he really did love everybody. He would 'take a walk' with us in the hall and greet the neighbors and was thrilled when some of them let him explore their apartments. We were thrilled that he lived long enough for us to give him a 20th birthday party, but devastated when his kidneys failed 3 months later, even though we knew the day would come to say goodbye. We will always miss Frankie. So will Zoey and Oskii, our other cats who Frankie grew close to.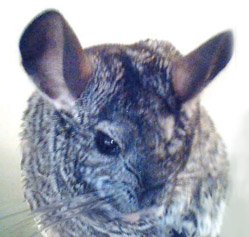 Mistress Chilli Chinchilla
Jan. '95 - Jul. '09
Oh, my Chilli Girl, how I miss you. I still find myself saving empty rolls of paper towels because I know you like to chew on them. But you aren't here anymore, and the space where your cage was is so very empty. I would beam with pride whenever you rode astride my shoulder and taught people, just by your quirky presence, that fur indeed had a face. Miss you, Chilli Girl. Try not to get yourself into too much trouble. At least until I get there. Then we can do it together.
---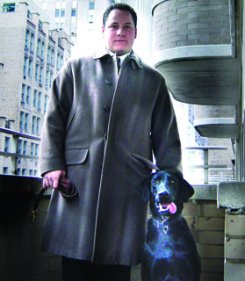 Midnight
2001 - 2009
Midnight, The black Labrador retriever, who served 7 years with the NYC Bomb Squad. While the eight-year-old Midnight didn't die in the line of duty, he is remembered fondly by Detective Jeffery O' Berdier, head canine trainer for the NYC bomb squad and Midnight's handler Police Officer Ron Richards. During his seven-year career, Midnight searched for illegal fireworks in tractor trailers and suspicious vehicles that might have been car bombs, worked on presidential and foreign diplomat visits to New York City, and worked at Yankee and Shea Stadiums. Cremated and honored by Hartsdale Pet Cemetery last May.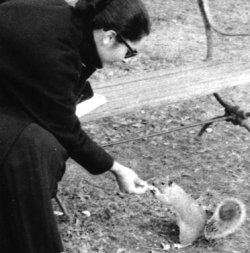 Dorothy Sayre
May 2009
Dorothy Sayre, beloved mother of art director, Jane Denny, and dear friend to many a person and animal, passed away in May. She was a great lover of animals with a house full of cats and dogs, a yard full of ferals all coming to feast at the back door, plus the occasional duck, turtle, frog or praying mantis sharing her salad. Donations in her memory may be made to Friendly Ferals, who came several times to humanely trap, spay/neuter and return Dorothy's ferals to their colony when she was unable. For that reason, she strongly supported this charity. RIP, Mom... and don't worry. We'll take care of them.
---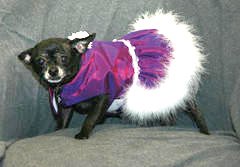 Crystal
November 15, 2007
In Loving Memory of our beloved Crystal, who left this world too suddenly, and much too soon. We miss you and we love you with all our hearts. We will never forget you. Till we meet again, you will always be in our hearts. Love, Mommy Elaine and fur-brother Louie and fur-sister Violet.
---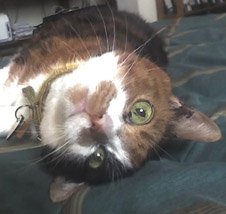 Keos
18 Years Old
Now with Grandma Joan and Daddy Kelly. Very much loved, very much missed. Love, Lynn and Alex.