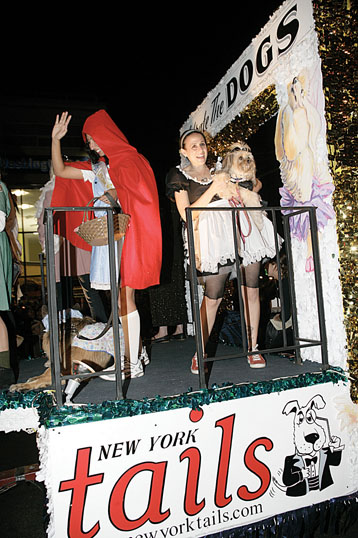 The brainchild of Beth Joy and Bella Starlet, New York Tails Magazine and StreetTreats joined forces to create the first-ever "Animal Halloween Float" in the famous Greenwich Village Halloween Parade! The float, which kicked off the parade, featured the winners of the annual Best New York Tails Contest, Marine Park Dogs and Tompkins Square Park costume winners. (Winter 2006/2007)
Beth Joy and Bella Starlet On Greatest American Dog!
Beth Joy Knutsen and Bella Starlet Dog are on Greatest American Dog on CBS! That's right, on Thursday, July 10th, 2008 at 8 pm on CBS (Channel 2 in the metro area) New York Tails Magazine's own Beth Joy Knutsen and her Bella Starlet Dog, columnists for "Tails About Town," made their broadcast television debut on Greatest American Dog. Greatest American Dog has since moved to Wednesday at 8 pm and will be broadcast throughout the summer.
We are so proud of them! Congratulations, Beth and Bella, on making it to the top six in Greatest American Dog. We'll see you again on the finale of the series on September 10th.
We present them with this "Best Of Tails About Town...Wall of Fame" from over the years highlighting just some of their adventures; more to come, so visit often!
Go Team BB! Visit her and cheer her on at the Bella Starlet Dog Web site, Greatest American Dog Web site, and join the Bella Starlet Dog Fan Club on Facebook.
We will also see New Yorkers, Dr. David Best and his mench of a dog, Elvis, on September 10th finale. Dr. Best and Elvis competed alongside Beth Joy and Bella Starlet on Greatest American Dog and made it to the top eight. You can see Elvis riding along with Dr. Best in a red convertible on Dr. Best's Web site: http://www.mdeany.com/home.html
See all four (Beth Joy, Bella Starlet, Dr. Best and Elvis) on the Summer/Fall 2008 cover of New York Tails in August 2008! (Definitely one for the collection!)
Beth Joy and Bella Starlet In the News:
"Who Let the Dogs On? You'd Be Surprised" (Lisa Bernhard, New York Times, July 6, 2008)

"Vulture Handicaps CBS' 'Greatest American Dog'" (Dan Kois and Lane Brown,New York Magazine, June 24, 2008)

"Greatest American Dog" (John Woestendiek, The Baltimore Sun, June 16, 2008)

New York Tails' Tails About Town below: