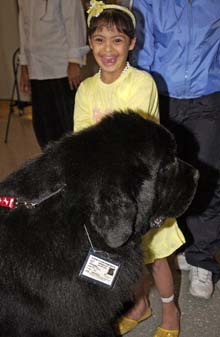 Josh the therapy dog
While the 128 year-old Westminister Kennel Club is best known for its famous annual purebreed dog show, taking place this year at Madison Square Garden on February 14 and 15th, many don't know that the Club uses its prestige to benefit many worthy causes. Westminster's latest effort, taking place right here in New York, is the Angel On A Leash program, a pet therapy program with the goal of enhancing the healing process for its pediatric patients.
Angel On A Leash brings together The Westminster Kennel Club and Morgan Stanley Children's Hospital of New York-Presbyterian to benefit young patients and their families through the integration and expansion of therapy dogs into patient care.
The unique partnership, launched this past November, featured 2004 Westminster Kennel Club winner Ch. Darbydale's All Rise Pouch Cove, better known as the huge, black-haired Newfoundland nicknamed "Josh." Retired from the show ring after his win, Josh is now a certified therapy dog for owners Dave and Peggy Helming and Carol Bergmann from Flemington, New Jersey. Josh's presence at the program's launch rivaled that of any human celebrity at the hospital, with crowds gathering at the press conference hoping for a glance at "America's Dog."
Five other dogs were also on hand that will be a part of the "Angel On A Leash" program. All the dogs interacted with children in the Hospital's Wintergarden area, and then Josh led a group to the sixth floor to visit young patients who were not mobile enough to come to the Wintergarden.
"Much More Than An Annual Show"
"Westminster is much more than an annual dog show," said Peter R. Van Brunt, President of The Westminster Kennel Club. "Westminster is a celebration of the dog as an important part of our lives. Our partnership with Morgan Stanley Children's Hospital is affirmation of our belief that our dogs make our lives happier and healthier, something that we have been showing the world for more than 125 years."
"Children at Morgan Stanley Children's Hospital will be delighted to have these special friends come to visit them. Pets are often a dearly missed part of the family when children require extensive stays at the hospital", says Cynthia Sparer, Executive Director of the Children's Hospital of New York-Presbyterian. "Our partnership with The Westminster Kennel Club and the launch of our new program, Angel on a Leash will provide an opportunity for our children to play, be comforted, and express themselves, just as they would at home."
Being in a hospital can be a frightening time for children - away from the comforts of home and family, facing medical procedures and treatments. The use of therapy dogs has been shown to help reduce stress for pediatric patients and their families. Scientific studies are showing the many benefits, ranging from encouraging smiles and conversation, to motivating them during physical therapy.
"For the past six years our pet therapy program has had a tremendous positive impact on patients, families and staff. Partnering with Westminster will allow us to expand these services," says Joan Bompane, Director of Child Life at Morgan Stanley Children's Hospital. "The therapy dogs connect patients, especially those who are suffering from chronic illness, to the outside world. The program brings unconditional love from an animal to the bedside which greatly contributes to the emotional and physical healing process".
Westminster will fund its innovative undertaking through the sales of its 2005 poster created for this year's show by noted artist Misha Lenn.
For more information about the Angel On A Leash program, call (212) 213-3212 or e-mail angelonaleash@wkcpr.org.
To order a fundraising poster or to learn more about The Westminster Kennel Club, log on to www.westminsterkennelclub.org
For more information about New York-Presbyterian's Morgan Stanley Children's Hospital visit www.childrensnyp.org